About The Sprout Queen - Christine Lindsey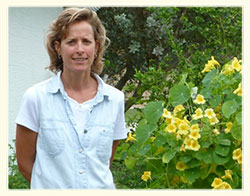 In February 2009, I attended Hippocrates Health Institute's Raw Cuisine & Sprouting Lecture. My main purpose was to learn how to grow wheatgrass for my beloved children (rescue cats). The bonus was learning how easily I could sprout and incorporate raw foods into my own diet!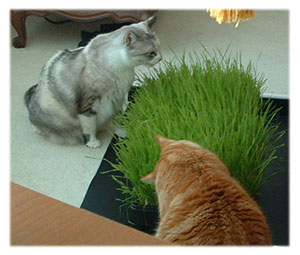 Casper (the Siamese/Calico) wasn't interested at first in the wheatgrass and I couldn't stomach it juiced so I stopped growing it. I continued to sprout alfalfa and broccoli and grow sunflower greens. After a summer hiatus, I started sprouting again in October. Having befriended Michael Wallace of Pine Island Botanicals, Inc by this time, he offered to sell any extras at a local farmers market. We tried sunflower greens first. They were a hit so I increased my production and began to include various sprouts and wheatgrass and more and more customers came!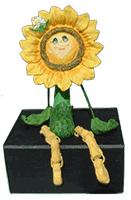 So in December 2009, Sprout Queen came to life. Turns out she had been sitting on the edge of my bookcase (being a Sunflower Shelf Sitter) for years just waiting for her debut. Since that time I'm always reading tidbits about living raw plant based foods and the happenings of agricultural practices, especially when it pertains to seed. By doing so, each week I am able to offer our customers a number of varieties of freshly harvested, naturally grown, non-modified sprouts along with multiple crops of sunflower greens, pea shoots, buckwheat lettuce, and wheatgrass. As an added bonus for my customers, I provide summary of nutritional information for each item I grow, lecture to area clubs/groups, teach 'Learn to Sprout' classes, and provide references for those who want to learn more themselves.

In October 2012, I had the pleasure of moving to Michael's 4 acre residential farm (expanded to 5 in 2016) where we are both committed to helping those who are looking to improve their wellbeing. Our farm offers flavorful, colorful, nutritious, non-modified, and chemical free locally grown produce people can incorporate into their and their pets' lives.

In October 2013, I firmly believe wheatgrass juice saved Casper's life! She crashed in the middle of the night and being 15 years old I figured her time had come. After a few days of nurturing, she appeared to be hanging on so I started to feed her wheatgrass juice through a dropper. It is now 2017 and I'm happy to say she's vibrant and fiesty at the ripe OLD age of 18!

Last but not least, I have mostly retired from my small business web design business. I custom built 95% of my clients sites, including this one. I hope you find it informative and easy to navigate!